THREE PAIRS NOW SOLD.
Only Large Shakti Spirals and Swans left... If interested, make an offer!
I am moving to a more discreet jewellery phase, and these particular Little Seven earrings feel a little too big for me. (I also have a somewhat short neck...)
These lovely 12 g 316LVM Stainless Steel
Shakti Spirals
Clhuthus
,
Nadas
and
Swans
are now for sale. (Note that I'm not sure of two of the sizes; by my tape measure, the Swans and one pair of Shaktis measure as large, but I suspect they may be medium, instead, as Little Sevens' measurements never match mine!)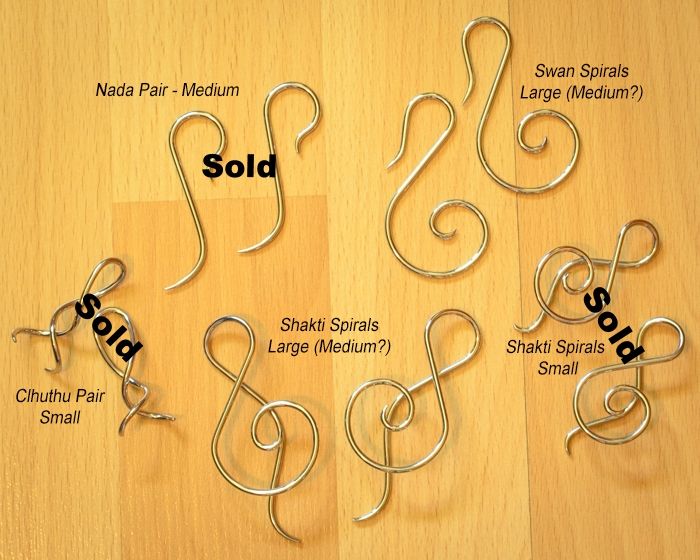 Cost:
Nadas: $35 per pair
Swans: $40 per pair
Clhuthus: $40 per pair
Shaktis Large: $45 per pair
Shaktis Small: $45 per pair
Costs include insured shipping to the US and Canada. I will ship elsewhere, but costs may be a little bit higher...
And! If you buy more than one pair, I'll discount each additional pair by $10...
All in excellent condition.
PayPal only, please.
Please message me here (or through LHC) if you are interested.
Thanks for looking!